TRE CO LE
TRE has been a popular dish. TRE is not only the favorite food of local people, it is also known by customers from all over the world as "Danang speciality".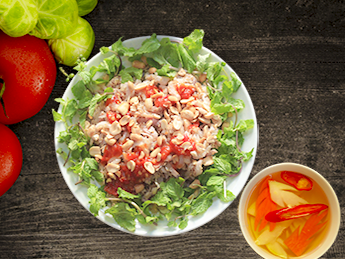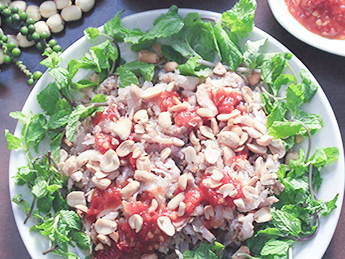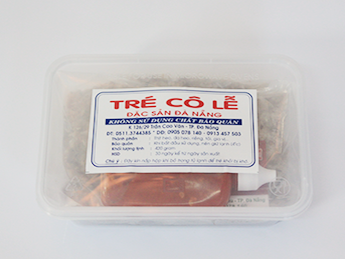 Product name
 

TRE CO LE

Product information
Price

3.1$/boxes

Net weight
 420 gram
Ingredient
Pork, pigskin, galangal, garlic
Storing
Keep in cool temprature in fridge (4°C)
Expiry date
30 days from manufacturing date
TRE CO LE – DA NANG SPECILITY
Perhaps nobody Danang people is not known, "TRÉ", a specialty dish of Da Thanh people. Handed down from ancient times until now, TRÉ is always a popular dish. TRÉ is not only the spiritual food of the local people but also the customers from all known by the label "specialty of Da Nang". Not naturally the label is attached to this specialty where there is even a culinary art of the Da Nang people. However, TRÉ have to buy the right place, at the right time to eat fresh smell Da Thanh culinary elite.
If you are the Da Nang people, you must have already heard of the name "TRÉ CÔ LỄ" right? Is a longstanding brand has been building the last 15 years, survival and development until now. So let's go find out why "TRÉ CÔ LỄ" the most famous and remain longer so slightly.
"TRÉ CÔ LỄ" are selected from the finest fresh ingredients: pork skin and pig ear leather is hand-selected each CÔ LỄ key 1 very thoroughly. Fat head crispy and fragrant meat, lean pork, beef, spices production also entered the best kind such as: anchovy sauce type 1, Ly Son garlic (so customers will see at enjoy the garlic cloves are very small which can only be the garlic grown in the island of Ly son), and the most delicious kinds of galangal…. 
Produced by more modern machinery, vacuum drummer TRÉ method to ferment, TRÉ CÔ LỄ always pioneer on production technology. Come on with TRÉ CÔ LỄ, you are also get free with 1 boot CO LE chili sauce, is packed inside, packing with plastic boxes to be reused many times. When eating just peeling, mix together Chili's can eat right. And to enjoy more fulfilling then you please mix more aromatic vegetables and peanuts, you will feel better enjoy it. TRÉ have fragrant from the very own spices such as galangal, garlic, anchovy sauce, sour characteristic of fermented meat, fatty skin and pig ears, spicy and sweet CO LE chilli sauce, and the smell of peanuts when eating. This dishes are consistent with most of the drinking water. Over 15 years ceremony of, TRÉ CÔ LỄ remains intact once formula, once taste creates the brand until today.
Come on Da Nang, that had not been enjoying TRÉ CÔ LỄ then you will surely regret it. If the chance of Danang excursions then try once to 71 Nguyen Thi Minh Khai-Da Nang to feel the Da Thanh cuisine.